Jambo Jambo African Restaurant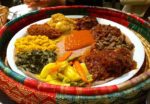 Business Name:
Jambo Jambo African Restaurant
Short Business Description:
This restaurant was a real treat. Specialized in Ethiopian food couldn't be more central, inner city Sydney. The main course served in a huge platter, for people to share, which is the Ethiopian way to eat.
Long Business Description:
Jambo Jambo Africa Cosy, colourful dining space with African decor, serving hearty Ethiopian food with veggie options.
Send Message to listing owner
Listing Title: Jambo Jambo African Restaurant